Desserts
Ice Cream  6
Vanilla, red bean or Green Tea
Tempura Ice Cream  8
Vanilla, red bean or green tea.
FBI  7
Fried Banana & Ice Cream
Fried Cheesecake  8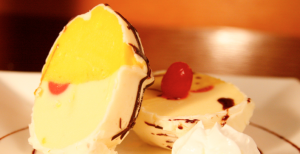 Exotic Bomba  8
Mango, passion fruit and rasberry sorbetto, all covered in white chocolate and drizzled with chocolate.
Chocolate Bomba  8
Coppa Caffe  8
Fior-di-latte gelato with a rich coffee and pure cocoa swirl, presented in a dessert glass cup.
Tiramisu Cup  8
Coffee and zabaione cream on a layer of sponge cake, soaked in espresso dusted with cocoa powder.
Coppa Pina Colada  8
Chunks of pineapple topped w. layers of coconut gelato and sprinkled with chocolate chips, presented in a dessert glass cup.